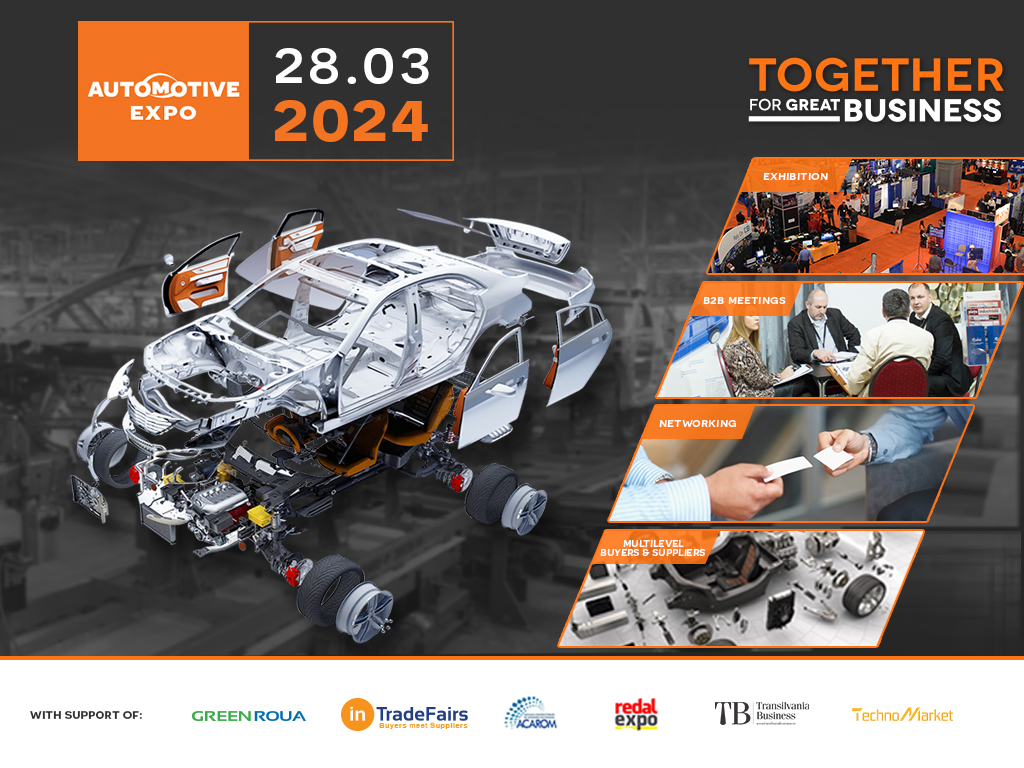 Automotive Expo & B2B Meetings is an international event dedicated to automotive professionals, buyers and suppliers.
The 2024 edition of Automotive Expo & B2B Meetings will be held on May 28 at Redal Expo, Sibiu, Romania.
This event is addressed to automotive manufacturing companies and their suppliers of products / services and it will have a structure of business to business meetings.
The participants in the event can meet automotive manufacturing professionals, suppliers and buyers interested in the following areas:
Additive Manufacturing, 3D Printing
Automation and Robotics
Cleaning and Filtering Equipment
Components Assembling
Compressed Air and Vacuum Systems
Connectors and Mechatronics
Digital Factory Systems
Electronics
Energy Equipment and Systems
Fasteners and Springs
Finishing, Thermal and Surface Treatments
Forge - Foundry
Forming Processes in Sheet Metal Work
Industrial Machines and Equipment
Industry Services
Labeling and Marking Equipment
Maintenance and Repair Products & Services
Materials and components - Glass
Materials and components - Metal
Materials and components - Plastic, Rubber, Composites
Materials and components - Textile
Materials and components - Wood, Cardboard, Paper
Materials and components - others
Monitoring, Inspection and Control Equipment
Motion, Drive and Automation Systems
Painting - Coating
Packaging and Logistics
Plastics - Rubber - Composites Processing
Research - Design - HR - Training - Consulting
Screw - Cutting - Machining - Special Machines
Sealants, Adhesives and Sealing Equipment
Semi-finished Products in Metal Processing
Software
Supplies and Consumables
Tools - Molds - Models - Prototypes
Trade press - Universities - Associations
Warehousing and Transportation
Waste disposal and Recycling
Welding
Wire, Cable, Wire Harnesses
During Automotive Expo & B2B Meetings, companies benefit from the exhibition of products, the presentation of new technological innovation, the access to information, the cooperation and the development of new partnerships. Furthermore, it provides a valuable marketing opportunity for all the participants.
In terms of layout, there will be placed exhibition stands for the suppliers for greater visibility within the event and for planned meetings with buyers.
At the exhibition stands, suppliers can bring products, roll-ups / banners and brochures  for promotion. They also have the possibility to rent exhibition materials, LCD/LED screens and to promote additionaly their company.
The meetings are planned online by the suppliers and buyers, taking into account the profile of each company, their objectives and the highest probability for the participants of doing business with their discussion partners.
For details regarding the participants and the registration for this event, please visit the event page here.